New site, feed info

Friday, Dec. 03, 2004 - 11:30 am
Hi, Just a reminder that my new site is:
and the feed is:
http://crochetsleuth.blogspot.com/atom.xml
Please use this feed to get to my updates while using Bloglines, not the wacked out, non-functional feed I tried to set up for this Diaryland site.
Thank you!
Tuesday, Nov. 30, 2004 - 3:13 pm
Ok, I have taken the first step into the next blogging generation. I have given up on getting a feed for this Diaryland site, so I am beginning to migrate my blog to blogger.
Here is my new site: Crochetsleuth (the title refers to my addiction to mystery novels in general, Nancy Drew in particular)--check it out. Over the next couple of weeks I will be working on moving all the bells and whistles, graphics and links, as well as posting about this change of address to the Crochet Blogs ring and on Crochetville.
Please take the time to update your links to my new site, and btw, I will also be creating a new button for my blog at some point in the not too distant future.
----------***Ü***-------------
Tuesday, Nov. 23, 2004 - 3:32 pm
You Are the Stuffing

You're complicated and complex, yet all your pieces fit together.
People miss you if you're gone - but they're not sure why.





Monday, Nov. 22, 2004 - 2:43 pm

Kids, you gotta love 'em. So I went to take some pictures of the items I'd listed below, and what do you know? The camera is full! What? How'd that happen? I take a look at what's on there, and there are a ton of pictures of the little ones playing outside--which I didn't take, and Tim didn't take. So I go ask Emma if she took them. She replies, "Yes, that's my action film that I was taking!" OK, Emma, whatever you say! So I will get pictures as soon as I can download Emma's masterpiece.

Question: Does it still count as "working out" if I am eating cookies while I do use an exercise machine? I can't be the only one out there doing this (and I only do this occasionally, not all the time, lol!)

Holly story: The kids and I were driving home one night in the dark, and had to stop at a red light. I turned around to see what they were doing, and Holly says to me, "Mom, you're soaking red!" (because of the glow from the stoplight). I thought that was really cute, and now that's all I think of when I have to stop for a red light.....

Hallelujah!!!! The "4th quarter" hell of work is winding down, and I should soon have a wee bit more time to work on this website/blog. It is in severe need of updating colorwise, linkwise, and bookwise. Gotta run now, but I promise to be back with you soon!


****Ü****

Friday, Nov. 19, 2004 - 12:23 pm

I bet you're curious what the heck I'm talking about. Well, that is a quote from Holly (almost 3), who memorized the chant/spell from Dragon Tales, one of her favorite shows. It's supposed to go like this:


I wish, I wish with all my heart,
To fly with dragons in a land apart....


But she thinks they are saying:


I wish, I wish with all my heart,
To fly with dragons in a land of fart....

Ahhh, out of the mouths of babes.

As an awesome 30-something mom that grew up in the 70s, I am a huge Play-Doh fan. So of course I am introducing all my kids to it and all the cool things you can make with play-doh. Ryan calls it "patato", lol! He pokes the playdoh with his finger and looks up at me and says, "Eat?" Never mind the fact that they don't understand why mommy doesn't like it when they mix all the colors together, or that their favorite thing to make right now seems to be poop.....

On the blogging front, I have been pondering a switch to Blogger. Diaryland is cool, but the fact that there's no rss/atom feed is pissing me off. Along with the fact that I have emailed customer "service" twice about it and got no reply either time. I have to wait until work calms down some, and then the thought of transferring everything, ugh, ... , but I do see that coming soon. Stay tuned for a new bat-time and a new bat-channel!

Crochet? What, I do that? Well, yes, as a matter of fact I do! You may not know it considering all the political posting and the lack of project photos lately, but I really have been crocheting my butt off!
F.O.'s from the last couple weeks (photos to come *wink*):
2 pair of toddler mittens
1 tote bag with pockets inside
1 flag yarn scarf
1 hat
1 baby blanket

W.I.P's right now:
1 sweater
1 pair of socks
1 scarf
1 afghan
3 christmas hotpads/dishcloths

And finally, a new quiz, which came out pretty much exactly how I am most of the time:






You Are From Mars






You're energetic, althletic, and totally hyperactive.
You love playing sports and being in the middle of all of the action.
You're independent, courageous, and brave. Unafraid to do things your way.
Mars can be reckless, quick tempered, and a little too spontaneous.
So think before you act - and resist your natural urges to dominate others.

****Ü****
Thursday, Nov. 11, 2004 - 3:18 pm
Whew!!!!!!!! I have been so busy at work that I have not had enough time to get all my non-work-related things done there, too. That really stinks, because I never get time to log on at home, nor do I feel like it after geeking all day long.
Here, I am ashamed to say because I am embarrassingly late to post this, is my gorgeous present from my Crochetville scarf swapping pal, Tracy. I absolutely love this scarf, and have worn it so many times since I got it that it feels like I have had it forever. It suits me just perfectly. I told her my favorite color was blue, so she made this "Shades of Blue" scarf out of Schachenmayr nomotta microcolor yarn. It is so soft, and gorgeous. I tried to take a close up pix of the yarn to show the scarf pattern, but that picture didn't turn out too good--the color is the blue of the other picture.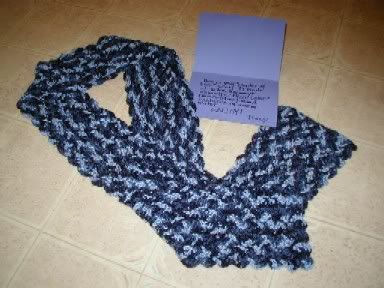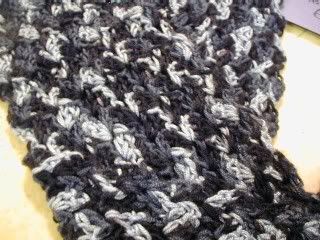 Oh yeah, there was also some lovely german chocolate in my package too, but that didn't even last long enough for me to photograph it, lol! ;) Anyways, Tracy, please accept my apologies for taking so long to post this message. I have thought about it every day, but have had trouble getting it all done!
Let's see, I've also made a pair of wrist warmers for my husband, whose game-playing, world-saving hands are sooooo cold that if I didn't see hear him blasting away at the forces of evil, I would wonder if he was OK: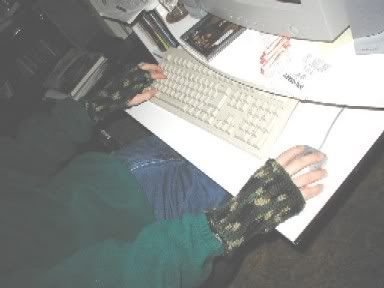 Here's what I got when I unraveled a sweater vest that I had hanging around in my closet--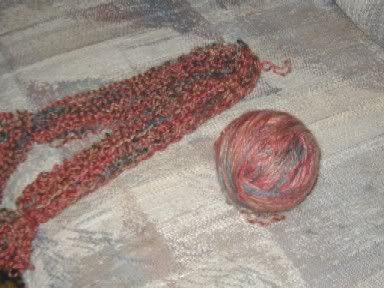 A big ball of dk weight yarn, and a lot of shorter (2') kinky pieces that will be used to make some funky doll hair.
And last but not least, for now, is a sweater I made out of Homespun. Not too shabby for my first attempt at a sweater: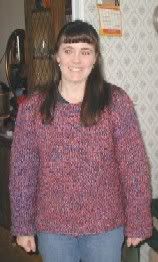 Right now, I am working on mittens for all the kids, a hat for Emma, another sweater for me, and a baby blanket for a co-worker. I've gotta finish the hat and mittens first, because they are small, and we have begun to get snow here (waaaaaaaaahhhhhhhhh!). After that it's my sweater (one sleeve left), and then the baby blanket and christmas presents. I decided what I am making for Tim for Christmas, but I can't tell you about it yet, as he sometimes pops in to read what I am thinking.
Since I've gotten this LONG OVERDUE post finished now, I will be updating my links, and colors, and pictures on my blog template next time I get the chance, and then will be back with more updates, projects, and links (well, not really more links, since there aren't any in this post, but you know what I mean).
I was going to spend some of this particular post apologizing for myself and how I feel bad that I am not able to post more frequently, or regularly. Hey, I am working mom of 3, with 45 min travel time each way to and from my job everyday. I'm tired, man! But, now I don't need to because Hazelnutlatte did it perfectly for me. Thanks Becky!
I'll leave you with two cherished pictures of our son, Ryan, whom (I think I've mentioned) HATES to go to bed. I checked on him one night when I was watching TV. Then a couple minutes later, as I was about to get in bed myself. He was apparently restless, and started on his way to the door but fell back asleep on the way. Little pumpkin!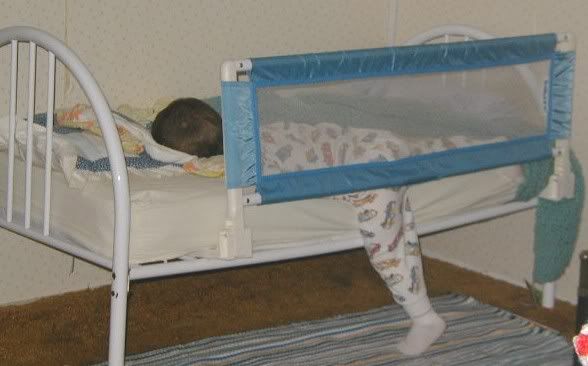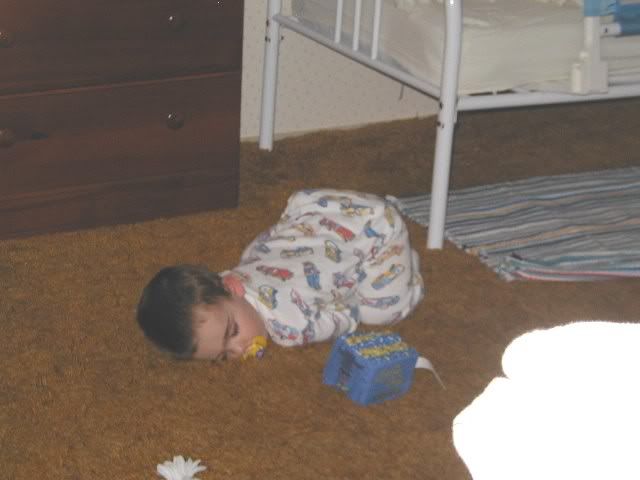 Bye for now!